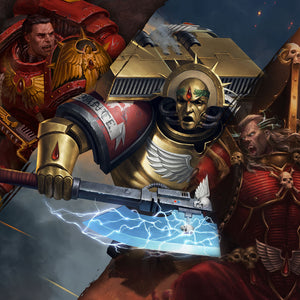 LIMITED DEALS - UP TO 30% OFF!
WARHAMMER 40k
BLACK TEMPLARS
NECROMUNDA
SHIPPING INFORMATION
WE DO NOT SHIP TO COUNTRIES OUTSIDE OF THE UNITED KINGDOM AND EUROPEAN UNION.


Due to reasons caused by current world issues - including BREXIT and COVID-19, shipping is taking a bit longer than usual. Stock is taking longer than usual to arrive from Games Workshop, and order processing is delayed. We ship most orders within 7-8 Business Days, sometimes sooner.
Estimated shipping date is shown on the product page.

PLEASE NOTE - IF A PRODUCT IS OUT OF STOCK ON GAMES WORKSHOP'S OFFICIAL WEBSITE, PLEASE EXPECT IT TO TAKE LONGER THAN THE DISPLAYED ESTIMATED SHIPPING DATE.

Please read our full information regarding this before placing the order, which is shown on the checkout page, and ensure you understand and agree to the terms of sale before placing your order with us.

Thanks for your patience during this time.